OPEC will resume talks today with a view to planning for 2021 and the continuation of output cuts to support the oil price in a time when demand is lower as the world recovers from the pandemic. A deal is expected to be reached for cuts of 7.7 million barrels per day which has seen oil trickle up overnight and trade around the $45.50 mark. The question mark will be on compliance to these cuts which had been a problem previously with some of the smaller member nations reluctant to cut their supply.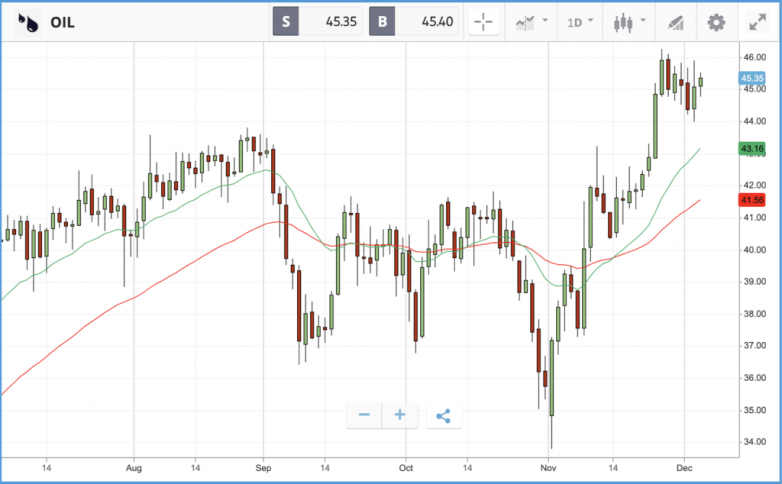 In corporate news, Salesforce stock slumped after confirming its $27.7bn Slack acquisition and setting out a lower than expected growth forecast. The cloud-based software company's share price fell by 8.5% as, although it beat analyst earnings expectations, the firm said it expects Q4 revenues to be around 15% lower than analysts had anticipated.
Famine or feast day for S&P 500 sectors
The major US stock indices took a breather yesterday, with all three close to flat for the day. That overall result hides big disparities in performance between different sectors, with the S&P 500's energy sector up 3.2% while the materials sector fell 1.4%. In the S&P, nine firms gained more than 5%, including cruise firm Carnival, Occidental Petroleum and Boeing. Salesforce was the worst performer in the index, followed by home appliance company Whirlpool which fell by 5.2%.
Tesla once again made headlines this week, after chief executive Elon Musk sent an email to employees on Tuesday warning them to control costs: "Investors are giving us a lot of credit for future profitability but if, at any point, they conclude that's not going to happen, our stock will immediately get crushed like a souffle under a sledgehammer," he said. Tesla stock made moves in after-hours trading yesterday, swinging from a 2.7% loss for the day into positive territory.
S&P 500: 0.2% Wednesday, 13.6% YTD
Dow Jones Industrial Average: 0.2% Wednesday, 4.7% YTD
Nasdaq Composite: -0.1% Wednesday, 37.6% YTD
LSE's $27bn deal looks set to get EU regulator blessing
The FTSE 100 gained 1.2% yesterday after the news broke that the UK has approved Pfizer's vaccine, led by London Stock Exchange Group's 9.6% gain. LSE Group jumped after reports that its $27bn takeover of financial data firm Refinitiv is set to receive approval from European competition authorities, which has been standing in the way of the deal that was initially struck more than a year ago. Mining firms BHP Group and Rio Tinto also delivered substantial gains yesterday, along with oil giant BP, which added 5.7%, 4.8% and 4.7% respectively.
On Wednesday the FTSE 250 added 0.2%, led by security firm G4S, doorstep lender Provident Financial and transport operator FirstGroup, which gained 7.4%, 6.6% and 5.9% respectively. G4S made gains after Canadian security firm GardaWorld raised its offer for the company, despite arguing two days earlier that a lower bid was fair, according to Reuters.
FTSE 100: 1.2% Wednesday, -14.3% YTD
FTSE 250: 0.2% Wednesday, -9.2% YTD
What to watch
Dollar General: Discount retailer Dollar General has added almost 40% to its share price in 2020, taking its market cap past the $50bn mark. Along with other discount retailers, Dollar General's gains this year have been driven by consumers stocking up on staples, and turning to cheaper options in the face of pandemic-induced economic uncertainty. The company beat earnings expectations substantially in Q1 and Q2, and will deliver its Q3 update on Thursday. Analysts are expecting an earnings per share figure of $2.02, and currently lean towards a buy rating on the stock.
DocuSign: Digital contract signing firm Docusign has enjoyed a huge 2020, with its share price up by almost 200% as companies and individuals have been forced to use such services in the absence of in-person meetings. Although the firm has competition from Adobe and other firms, DocuSign offers purer play exposure to digital signing services for investors. The company delivers its Q3 earnings on Thursday, where, similar to other firms that have enjoyed huge run-ups in 2020, investors will be looking for signs the company can convert the pandemic environment into lasting growth. Currently, 13 Wall Street analysts rate the stock as a buy or overweight, five as a hold and one as a sell.
Initial jobless claims: All eyes will once again be on initial jobless claim figures in the US on Thursday, and investors look to the metric for signs of the state of the US economic recovery. Last week, new unemployment claimants rose for the second week in a row, the first back-to-back increase since the summer.
Crypto corner: US lawmakers propose to regulate stablecoin issuance
Three Democrat members of the House of Representatives have proposed a law that would require all newly issued stablecoin assets to be federally approved.
The proposed law issued by Congresswoman Rashida Tlaib, Rep. Jesus "Chuy" Garcia and Rep. Stephen Lynch, is called the Stablecoin Tethering and Bank Licensing Enforcement (STABLE) Act.
The act would require issuers to have a banking charter and for new stable coins to be approved by the Federal Reserve, Federal Deposit Insurance Corporation (FDIC), and other agencies. Stablecoin creators would also be required to have FDIC insurance or equivalent amount of US Dollars as a reserve for the coin.
While the proposing lawmakers have said the bill is designed to protect consumers, it has already been criticised by the cryptoasset community as a 'huge step back' for the financial technology.
All data, figures & charts are valid as of 03/12/2020.
This communication is for information and education purposes only and should not be taken as investment advice, a personal recommendation, or an offer of, or solicitation to buy or sell, any financial instruments. This material has been prepared without taking into account any particular recipient's investment objectives or financial situation, and has not been prepared in accordance with the legal and regulatory requirements to promote independent research. Any references to past or future performance of a financial instrument, index or a packaged investment product are not, and should not be taken as, a reliable indicator of future results. eToro makes no representation and assumes no liability as to the accuracy or completeness of the content of this publication.