On Monday Tesla's share price jumped by 7.1%, making it the sixth company in history to pass $600bn in market cap. That places the electric car maker in elite company, alongside Amazon, Facebook, Apple, Alphabet (Google) and Microsoft. Bullish views from analysts, along with continued appetite for technology shares, have driven Tesla's share price up by 13.1% in the past five trading days and 52.3% over the past month. On Monday, the S&P 500's information technology sector was one of only three (out of 11) in the green.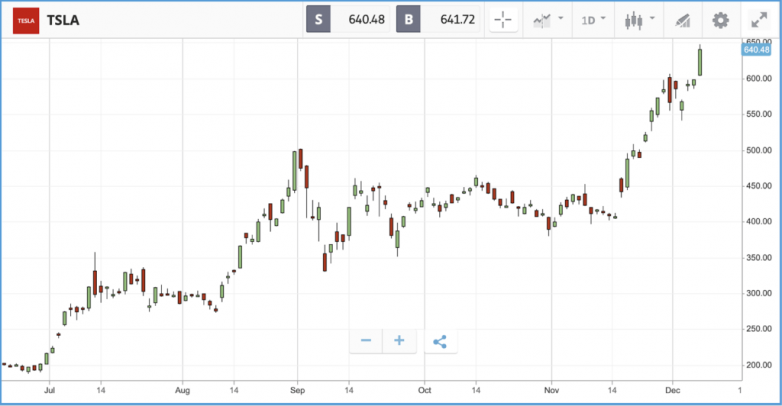 In other news, Uber's share price fell back by around 2%, as it announced that it is selling its driverless car unit to Aurora Technologies. The two firms will partner in the future, with Aurora self-driving cars operating on Uber's platform, and Uber will invest $400m into the firm, but the deal is the end of Uber's ambitions to build its own self-driving fleet. Uber's drivers are currently its main headache, both in terms of cost and the legal hot water it has landed in over its classification of drivers as self-employed.
European shares have opened flat this morning as all eyes are on whether or not a Brexit deal can be reached between the UK and the EU. Initial optimism faded as both sides have yet to reach an accord and the possibility of the UK dropping out of the bloc with no trade agreement looms once again.
In corporate news the biggest riser in the UK is Ashtead Group whose shares have been up as much as 5% as the construction and equipment hire firm posted a loss, which was less than anticipated and predicted its full year figures would come in ahead of expectations.
Hyatt plans European expansion despite pandemic hurt
It was a mixed day for US stocks, with the Nasdaq Composite up 0.5% and the Dow Jones Industrial Average down 0.5%. The S&P 500's energy sector took a 2.4% hit, while in the Dow oil giant Chevron was down by 2.7%.
One stock making waves on Monday was Hyatt Hotels, which fell by 2.4% after announcing that it plans to substantially increase its European presence by the end of 2023, despite the pain the pandemic has dealt to the hotel industry. Currently, the company has 63 Hyatt-branded hotels across 22 European countries and now plans to enter new territories in addition to doubling its growth in the United Kingdom. Over the past three months, Hyatt stock has gained 23.2%, bringing its year-to-date loss down below the 20% mark.
Monday also saw Airbnb announce a hike in its proposed IPO valuation, pushing it up to as much as $42bn ahead of its planned Thursday float. That puts its IPO share price at up to $60, versus a $44 to $55 range provided earlier in the month.
S&P 500: -0.2% Monday, 14.3% YTD
Dow Jones Industrial Average: -0.5% Monday, 5.4% YTD
Nasdaq Composite: 0.5% Monday, 39.5% YTD
Tobacco stocks lead FTSE 100 while homebuilders slip
London-listed shares were also mixed on Monday, with the FTSE 100 eking out a 0.1% gain and the FTSE 250 down by 1.3%. Tobacco stocks led the FTSE 100, with British American Tobacco up 4.7% and Imperial Brands Group adding 3.4%. Homebuilders Berkeley Group and Persimmon were at the bottom of the FTSE, losing 7.2% and 5.3% respectively. The losses came despite data from Halifax, which showed that house prices gained 1.2% in November versus October, with prices up 7.6% from November 2019. The slump was sparked by Berkeley Group posting a 16.6% drop in its first-half profit on Friday.
In corporate news, Frasers Group is reportedly in talks to buy collapsed department store chain Debenhams out of administration, without which the firm will be shut down for good after Christmas – with more than 10,000 jobs on the line. Frasers Group's share price is down 7.6% year-to-date, but up by 16.9% over the past three months.
FTSE 100: 0.1% Monday, -13.1% YTD
FTSE 250: -1.3% Monday, -8.9% YTD
What to watch
Chewy: Online pet food and product retailer Chewy's share price is up by more than 150% in 2020, as consumers stuck at home have turned to online solutions. Pet sales and adoptions have also surged this year during US lockdown restrictions. The firm will deliver its third-quarter earnings on Tuesday, where investors will be watching for sales per customer, information on the value of more newly acquired customers, and how the company is managing costs. Wall Street analysts are expecting the firm to deliver a $0.14 loss per share for the quarter.
AutoZone: Aftermarket car parts retailer Autozone's share price is close to flat in 2020, recovering from a near 40% loss between the start of the year and mid-March. The firm's popularity amongst DIY car modifiers offers a defensive element, particularly as with many now facing economic hardship due to the pandemic, there is likely to be increased demand for parts to keep vehicles going over rather than replacing them. The question in the firm's latest set of quarterly earnings on Tuesday will be whether those elements can sustain the company in the face of Americans doing significantly less driving.
Crypto corner: Bitcoin mining pool revives selling to start-up miners
ViaBTC, the bitcoin mining pool and crypto mining services and products provider, has relaunched its cloud mining contracts for both bitcoin and ethereum.
The company allows cryptoasset enthusiasts to establish their own mining operations by pooling their money with other investors to fund the group's bitcoin mining operations. Users can select different contracts that mine bitcoin or ethereum at different speeds, with as much as 17PH/s offered for BTC, while ETH contracts are pegged at 44GH/s.
Using mining pools allows would-be miners to enter the market without spending on high-end equipment. Eddie Jiang, Partner and COO of ViaBTC said: "By launching the cloud mining service, we have lowered the mining threshold.
"Though there are more institutional players entering this industry to set up large mining farms, individual miners can still participate and benefit from purchasing cloud mining contracts."
All data, figures & charts are valid as of 08/12/2020.
This communication is for information and education purposes only and should not be taken as investment advice, a personal recommendation, or an offer of, or solicitation to buy or sell, any financial instruments. This material has been prepared without taking into account any particular recipient's investment objectives or financial situation, and has not been prepared in accordance with the legal and regulatory requirements to promote independent research. Any references to past or future performance of a financial instrument, index or a packaged investment product are not, and should not be taken as, a reliable indicator of future results. eToro makes no representation and assumes no liability as to the accuracy or completeness of the content of this publication.