Traders quickly buy the bitcoin dip, pushing prices back to $19K
Following a brief pullback to $17.5K, the dip was greedily eaten up over the weekend, pushing Bitcoin back towards all-time highs above $19K.
This resurgence was supported by big players from traditional finance, who are increasingly throwing their weight behind Bitcoin. Insurance fund MassMutual announced the purchase of $100m in the cryptocurrency last week, while Morgan Stanley's Chief Strategist predicted that Bitcoin could replace the dollar as the world reserve currency, and the Standard Chartered bank CEO said the widespread rollout of digital currencies is "absolutely inevitable."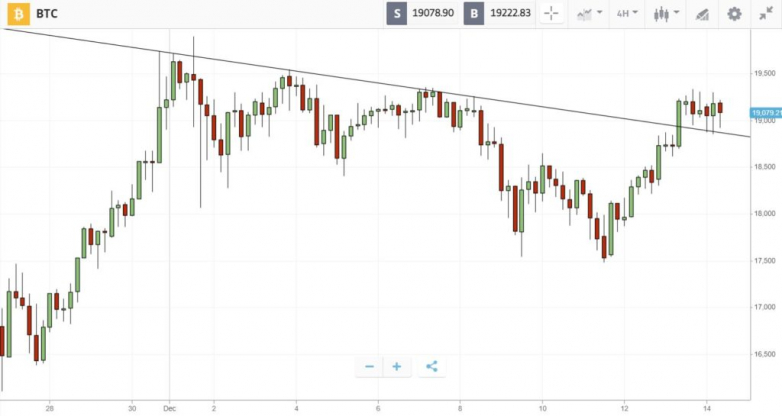 Yet even as Bitcoin is spurred ahead by institutional demand, altcoins are lagging behind. Ethereum has finished the week flat as it consolidates around $600, while XRP has fallen 15% following a mammoth rally in anticipation of the recent Spark token airdrop.
This Week's Highlights
MassMutual makes $100 Million Bitcoin purchase
Bitcoin rich list hits new high
MassMutual makes $100 Million Bitcoin purchase
170 year-old insurance company MassMutual is buying $100M worth of Bitcoin to gain exposure to a "growing economic aspect of our increasingly digital world."
The investment is barely a drop in the insurance firm's $235 billion investment bucket, but it could be a big splash for cryptocurrency. Insurance firms are among the most cautious class of institutional investors, and MassMutual's Bitcoin purchase could open the floodgates further to welcome more pension and insurance funds to the market.
Bitcoin rich list hits new high
In yet another confirmation of the growing institutional appetite for Bitcoin, the number of wallets holding at least 1,000 coins — also known as the Bitcoin rich list — has increased 17% in 2020, according to Chainalysis.
This data suggests that a new breed of whale is joining the market, as early investors are joined by a new institutional class that are now scooping up large amounts of Bitcoin.
At the same time, the number of Bitcoin held on exchanges sank 18% this year, which could mean that buyers are sending the cryptocurrency to external wallets to hold for the long haul.
The week ahead
As Bitcoin once again approaches all-time highs in the run up to Christmas, several upcoming events could spark festive volatility.
On the bull side, traders are anticipating buying pressure after MicroStrategy publicly announced plans to purchase another $650 million worth of Bitcoin. Adding to this, Wednesday will bring the final policy meeting of the year for the Federal Reserve, which could mean more Bitcoin-boosting economic stimulus.
If the Fed fails to set off fireworks, we could see the market move the other way. Bearish pressures are topped by swirling rumours that outgoing treasury secretary Mnuchin is planning to deliver a final blow, by introducing regulations that restrict use of private cryptocurrency wallets.